Vermont's largest city – and only city of any size – lies in a beautiful location on a hillside overlooking Lake Champlain and the skyline of the Adirondack mountains, on the opposite shore in New York. The thriving downtown reaches right to the shore, but its main shopping district is a few streets above on Church Street. There is almost always something happening in this broad, car-free space lined by shops and restaurants. Crowning the hill is the stately campus of the University of Vermont, which gives Burlington a young, hip vibe.
Don't expect a big city, but do expect to find a high concentration of arts and cultural attractions, as well as plenty of active options for tourists to enjoy. Burlington has a large population of artists and high-quality craftspeople, whose works you'll see in the many galleries and studios throughout the city and surrounding towns. The Flynn Theater is a magnet for top national and international performers and music, and Burlington is home to the Vermont Symphony Orchestra, as well as music and theater groups at the university.
Shelburne Museum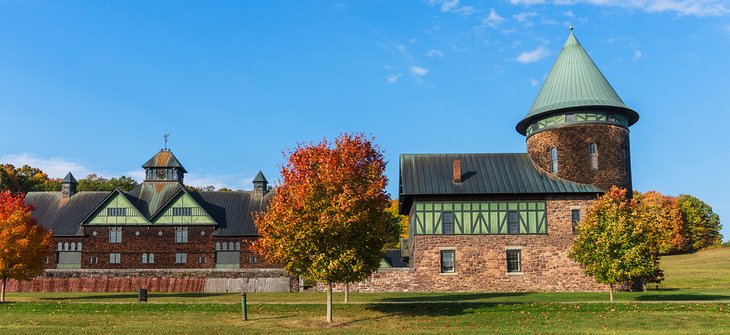 On the outskirts of Burlington, this large, open-air museum gathers original buildings from different eras of Vermont's past into a campus that doesn't pretend to be a real village, but shows each house, barn, and shop with period furnishings and the activities of rural life in its time. The 39 historic buildings, even the historic lake steamer SS Ticonderoga – hauled here by rail and restored, are either furnished or used as display settings for some exceptional collections of decorative arts, paintings, folk art, and Americana. The grounds include a railroad depot, private car, and locomotive, covered bridge, jail, print shop, apothecary, schoolhouse, country store, meeting house, lighthouse, and a round barn, one of the few to survive in New England.