The little monastery town of Ste-Anne de Beaupré is situated on the banks of the St. Lawrence River, only 40 kilometers northeast of Québec City. The town is best known for the Basilica of Sainte-Anne-de-Beaupré, a pilgrimage site for roughly half a million visitors each year. Also located nearby is Canyon Sainte-Anne, an impressive gorge crossed with suspension bridges. The dramatic landscape is waterfall country, with falls that include Sept-Chutes, Chutes Montmorency, and Chutes Ste-Anne.
Basilica of Sainte-Anne-de-Beaupré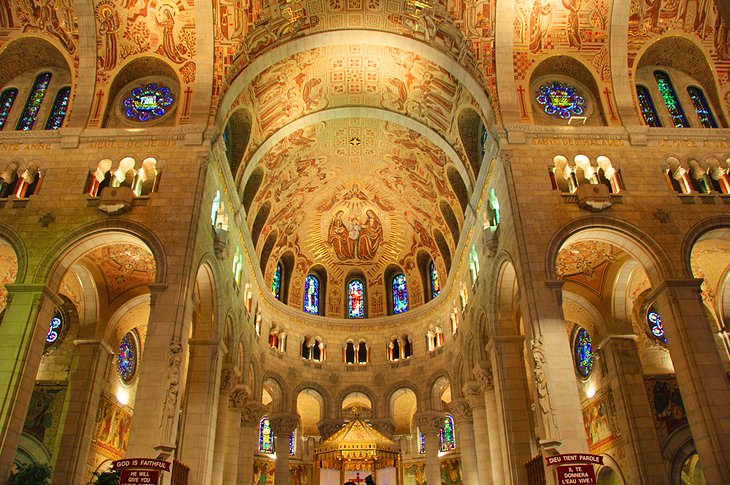 The Catholic Church has credited St. Anne with many healing miracles, and that has made Basilica of Sainte-Anne-de-Beaupré a huge draw for pilgrims. The first chapel dedicated to St. Anne was built here in the 17th century, quickly becoming a place of pilgrimage following reports of miraculous events. In 1661, a new stone-built chapel was erected on the valley side, only to be replaced 15 years later. A fire destroyed an 1872 basilica here, and the present neo-Romanesque church, was completed in 1923. The church was designed by the Parisian architect, Maxime Roisin, and constructed by Louis Audet, a master-builder from Sherbrooke. Among the most pleasing features are the mosaics, colorful stained glass windows, and fine sculptures and paintings by European and Canadian artists. On the way up to the chapel on the hillside (this one built in 1878), the Stations of the Cross are marked by beautifully executed life-size metal figures.