Officially created in 1999, Nunavut Territory is an administrative unit hived off from the former Northwest Territories. Nunavut, in the language of the Inuit who live here, means "our land" and covers the whole of the eastern section of northern Canada. With an area of 1.9 million square kilometers, Nunavut is almost eight times the size of the United Kingdom and comprises roughly one fifth of the total area of Canada. Its southern border is the 60th parallel, while the north extends to within about 800 kilometers of the North Pole. Most of the Territory is situated above the tree line, in a region of predominantly treeless tundra with dwarf shrubs, grasses, mosses, and lichens. Fiords cut deep inland from the coast.
Craft- and handicraft-based businesses have achieved extraordinary success. Produced mainly in small workshops, the leather goods, jewelry, ivory work etc. have great appeal for tourists throughout Canada. Hence, in addition to meeting the demand from the as-yet small number of tourists who visit the Far North, there is a lively "export trade" to the major tourist centers of the Canadian South (including Québec, Toronto, Niagara Falls, Banff, Lake Louise, and Vancouver).
Baffin Island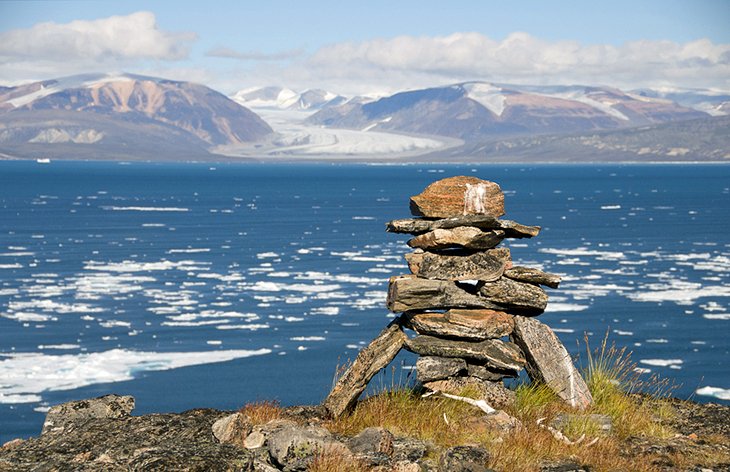 With its breathtaking landscape, the hospitality of the Inuit people, and the numerous opportunities for an unusual holiday, Baffin Island is a strong draw for tourists. But it can hardly be said that it suffers from invasions of visitors. The island is the fifth largest in the world with a coastline and landscape that vary considerably. On the eastern coast, very similar to Norway with its steep fiords and small offshore islands, lies a long, narrow Alpine-like mountainous zone – reaching heights of 2,591 meters in Auyuittuq National Park on the Cumberland peninsula. The main administrative town is Iqaluit on Frobisher Bay. The only way to get to the far north island is by air, and that is rather expensive. The cost of living is high and the climate very "unfriendly", not to mention the hordes of insects, which descend on the unfortunate traveler in summer; all in all, the region is perhaps somewhere for the specialist.