In Flagstaff, you can find everything from luxury resorts to cozy and romantic bed-and-breakfasts and a fine assortment of mid-range hotels. The climate here makes it a great summer retreat destination for travelers looking to escape the heat of lower areas, like Phoenix or Tucson. A spring or fall getaway to Flag, as it's known by locals, is also a nice way to spend some time sightseeing, hiking, or just relaxing. And while most people don't think of Arizona as a ski destination, the ski resort of Arizona Snowbowl brings skiers and families here from across the state, especially after storms, which can dump literally feet of snow on the mountain. Prices can vary greatly depending on the season and what's going on in town. Find a great base for your next visit with our list of the best places to stay in Flagstaff.
Wyndham Flagstaff Resort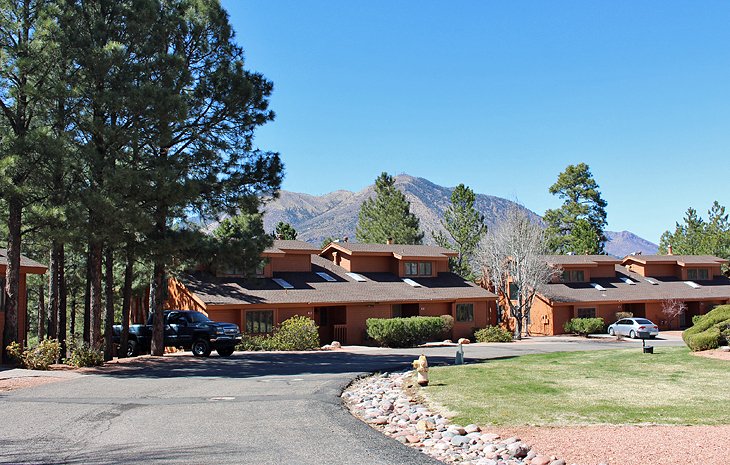 The luxury Wyndham Flagstaff Resort is set on a hillside overlooking the surrounding countryside with views out to the San Francisco Mountains. Individual units are very large one- and two-bedroom townhouses with full kitchens, and range in size from 550 to 1,400 square feet. Many of the suites have balconies and cozy wood burning fireplaces with stone hearths. In the summer, guests can enjoy one of the two outdoor pools and hot tub, hit the golf course or tennis courts, and the kids can head to the mini golf or playground. In the winter, a trip to the on-site spa for one of the many treatments can soothe your muscles after skiing at nearby Snowbowl. The resort is near the beautiful Walnut Canyon National Monument, one of Flagstaff's top attractions. If you'd like to head into town, drive time from this resort to downtown Flagstaff is about 10 minutes.